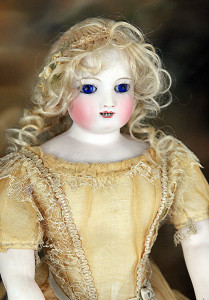 This is another of the "dolls with a twist" from the recent Theriault's auction. I have long studied and collected French Fashion Dolls, and I am fascinated by their history and variety. Steiner made some of the most interesting of these dolls, often mechanical, often early, and, as with this doll. often with open mouths and little teeth (I mean seriously, teeth–what were they going to do, eat a miniature croissant?).
This particular lovely Steiner French Fashion is a mechanical doll that waltzes when you wind up her clockwork mechanism–she glides forward and side to side in graceful movements, lifting her arms up and down (and yes, after approximately 150 years, still works). She stands 15″ tall, and was produced circa 1860–she is a very early example of this doll. She wears her completely original outfit (somewhat frail, but amazingly all in one piece, especially around the sleeves).  She has pretty blue enamel inset eyes, and her original bisque arms.
Isn't it amazing that a bisque doll made to move and quickly glide across a hard floor (doesn't work on carpet) has come to us still all in one piece? By the way, she has a typical French Fashion doll body on the top (kid with bisque arms) and a hard cardboard, often called carton, cone body on the bottom hidden by the dress skirt which contains the mechanism. She also has two paper labels on the bottom of the cone near the wheels which read "Izzard Importer Manufacturer 136 Regent St. 136″.  I believe this to be the manufacturer of the clockwork mechanism for the doll, and if you go to that address in London today, you'll find a Tommy Hilfiger store.
Here is a link to a Photo Gallery with more photos of this mechanical Steiner Waltzing French Fashion doll.