I think many doll collectors in the 21st Century are content to sit behind their computer screens and buy and sell dolls on eBay and Ruby Lane, perhaps taking part in Facebook or other social media doll groups. If they attend an auction or a live event at all, they "attend" via Proxibid or other online live auction sites.  I certainly have been guilty of this myself.
Which is why I coordinated a trip to see good friends in the doll world in Florida with a trip to the Theriault's doll auction weekend  in Naples, Florida. I attended Florence Theriault's DollMastery Seminar on Friday  the fully cataloged Sanctuary auction on Saturday, and the no-internet fun free-for-all that is a "Discovery Day" auction on Sunday.
Really, there is no substitute for seeing dolls in person, and the benefits of attending an auction with no internet bidders is obvious. But beyond that, attending a live event allowed me to spend time with other doll collectors and make new doll collecting friends as well.  Also, having the opportunity to attend a doll event in a new place truly added to the experience…I have been in a real rut the past few years and have mostly attended events in California and Las Vegas…close to home.  I realize that not traveling or traveling closer to home can be cheaper, but not always, and if you can afford it, sometimes it pays to travel a little farther to find new dolls and new friends.
Of course, this holds true for any live doll event, be it a doll doll convention, a doll class or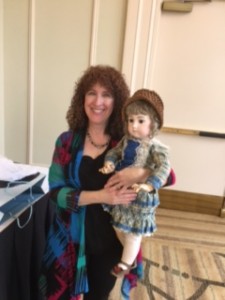 seminar, a doll club meeting, a doll show or doll sale. And do we want live doll events to disappear for lack of attendance? We definitely do not. So I hope to see you out and about in the doll world next time!
I will talk more about the events from this doll weekend on this blog…I have included one photo of me with a doll new to my collection to whet your appetite.